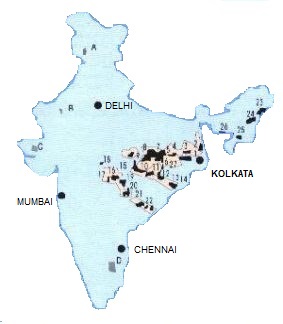 The Ministry of Coal has the overall responsibility of determining policies and strategies in respect of exploration and development of coal and lignite reserves, sanctioning of important projects of high value and for deciding all related issues. Under the administrative control of the Ministry, these key functions are exercised through the Public Sector Undertakings, namely, Coal India Ltd. and its subsidiaries and Neyveli Lignite corporation Limited. Other than Coal India Ltd. and Neyveli Lignite Corporation Ltd., the Ministry of Coal also has a joint venture with Government of Andhra Pradesh called Singareni Collieries Company Limited. Government of Andhra Pradesh holds 51% equity and Government of India holds 49 % equity.

Vision: To secure availability of Coal to meet the demand of various sectors of the economy in a eco-friendly, sustainable and cost effective manner. Ministry of Coal is committed to:
augment production through Government companies as well as captive mining route by adopting state-of-the-art and clean coal technologies with a view to improve productivity, safety, quality and ecology.
augment the resource base by enhancing exploration efforts with thrust on increasing proved resources.
facilitate development of necessary infrastructure for prompt evacuation of coal.
Purpose:
The information on Coal Block(s) identified for Auction by Ministry of Coal is being provided only as a preliminary reference information/document by way of assistance to the prospective bidders (or users of the information) who are expected to carry out their own surveys, investigations and other further detailed examination of the identified Coal Blocks prior to any invitation of offers or tender by Ministry of Coal. This is not an offer or invitation of offer (or tender) by CMPDIL or Ministry of Coal (MoC). The information, data and other material provided herein has been provided for general information purposes only. Nothing contained herein shall be binding on the CMPDIL or its employees nor confer any right on the prospective bidders or users of the information. CMPDIL shall have no liability whatsoever in relation to or arising out of any or all contents provided hereinafter.